Testimonials
The Greater Hampton Roads Diaper Bank wants to thank you for the Great Job your crew did for us today. I am told that they were a very professional, efficient and pleasant team. Everyone had a great attitude and knew exact;y what to do.It was amazing to watch them. Thank you very much and we will definitely recommend you to others
Cheryl Leadbetter-The Greater Hampton Roads Diaper Bank
Highly recommend this business. Just had a team in to cut down a tree damaged after last week's storm. Can't say enough about how impressively they worked as a team. Property was left spotless!
Nuckols Tree Care is the only tree removal service I trust. As a conservation landscape designer and restoration professional, I refer everyone to them for their professionalism and care. When I recently (sadly) had to have a dead Oak tree removed from my own property, Nuckols did an amazing job and came in at a price that was very reasonable. I trust Nuckols with my trees and I trust them with my wildlife.
Trista Imrich-Wild Works of Whimsy
We want to give a big shout out and a Thank You to Nuckols Tree Care, Inc. They spent the whole day volunteering their time to help us! They removed hazardous limbs, trees and stumps from the Garden. Thanks Nuckols Tree Care!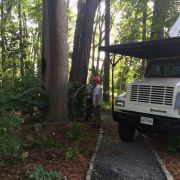 Norfolk Botanical Gardens
I'm very happy with the work Nuckols did on my large oak tree. They assured me that my tree was healthy and only needed some clean up. I appreciate that they did not try to sell me something that was not best for the tree. They did the work and left my yard just the way they found it. Great service.